White Teddy Bear From Austria Can You Help Identify This Bear?
by Elizabeth
(Fountain Valley, CA USA)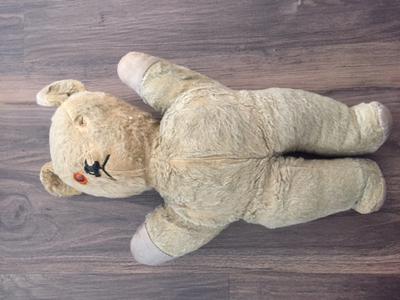 white Austrian Teddy Bear
Hi,
This is my childhood bear. It was purchased in Austria in 1958 or 59.

I Think the eyes are glass (I have the missing eye). The arms and legs are not jointed and the pads on the hands and feet are silk. The fur looks like lambs wool but is synthetic. It is stuffed with kapoc. It chimes when you shake it. It is stitched up the middle on the front and back of the body. Each arm is stitched to the body. See the photo for the stitching on the face and back of head.

I would like to know who the maker is and possibly it's value.

Thank you for your help.