Who is my teddy best friend?
by Nicole
(Pittsburgh, PA, USA)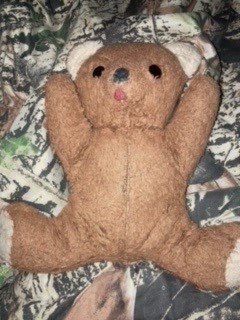 When I was a toddler in the late 1970s, an elderly neighbor down the street called my mother and asked her to bring me by. When we arrived at her house, she presented me with a box containing this teddy bear. I played with it while my neighbor and mother visited. When it was time to go home, I put the teddy bear back in the box and handed it back to my neighbor. She was confused and thought I didn't like the gift, but my mother explained that I thought she was letting me play with her teddy bear and I was returning it to her. When they explained that it was mine to keep, I was so happy. His name is "Patches", and he has been my best friend for 43 years. I am interested in his history. I have googled his description MANY times, and I cannot find another bear like him. Is he from the 1970s? He seems to have a wire inside for minimal posing, and he was given to me in a suburb of Pittsburgh, PA, USA. Any help anyone can provide is appreciated.