Who Knows my Teddy Bear
by Zailie
(New Zealand)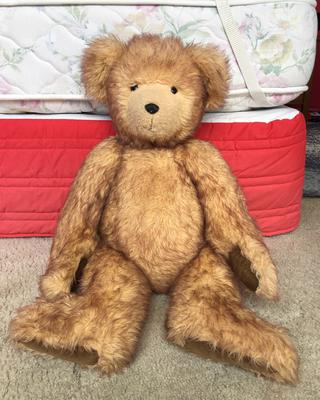 Old Teddy Bear
Hi everyone, I'd love to know what kind of bear this is, e.g. where he is from, if this type of bear has a particular name, if he is worth anything and if what, what year/s he is probably from, words I can search to learn more about him etc etc


I'm not much of a teddy bear collector so I don't know what material he is. It doesn't feel like real fur, it's kinda rough. But it has a very interesting look to it with the ends of the fur dark, almost purpleish looking in some lights. You can see what I'm talking about in the pictures. This is one of his most distinguishable features I believe, at least to me.
On both his feet and hands he has soft padding on them, similar to velvet but slightly ruffer, feels like felt. All his limbs are quite long as well as his body. He is quite a large/tall bear.
His muzzle sticks out a fair bit (not overly long) and is a different material to the rest of him.
I believe his eyes are plastic as they are not very cold and I find with glass eyes they're usually quite cool to the touch.
I'm unsure how he is stuffed but it feels quite solid to the touch and doesn't make a sound, except on his head (a slight scrunch sound) so perhaps they used different stuffing for his head. His ankles feel quite weak with not much stuffing and he definitely seems to me like a bear made to sit.
His head is a bit wobbly, all limbs move and I can feel metal or plastic frames around the joints.
He is in fantastic condition aside from his head being wobbly and leaning/staying on one side.
Where he appeared from:
I live in NZ and he was found to be going in the rubbish bin at a Salvation Army second hand store in 2017.
Again if anyone knows something about this bear please leave a comment.
Would most like to know manufacturer and approximate age and value.