Wooden Jointed Bear That Makes a Noise when rocked back and forth.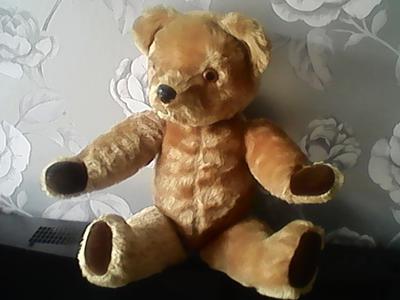 Wooden Jointed Bear
Hi,
How the Bear was Acquired. The Bear was given to me by the Daughter of a wealthy family in the late sixties. My Mother was the Housemaid and was allowed to take me with her to work, Apparently i was 1 at the time and i fell in love with this Bear and cried so much the daughter who owned the Bear and was about Ten Years old at the time gave me the Bear and I've had it ever since.

Description. Seem down the back in the center. When rocked back and forth makes a baby bear type sound. Head, Arms and legs have wooden joints and turn. Faint remnants of a white label on the back with blue font, cant tell what it says. Velvet type material hands and feet.