ww11 Teddy Bear
by Robin Thomas
(Newark, DE USE)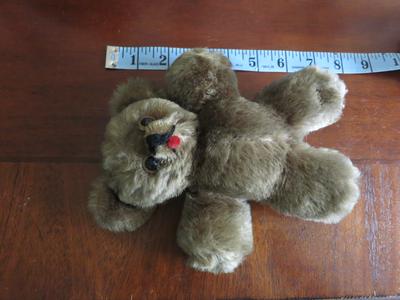 7
I believe this belonged to a US pilot shot down in WWII. It was in his sisters house when we cleaned it out and stored with his service metals. Appears to be filled with sawdust. Eyes perhaps wood on felt. Tongue is felt. Fur is a bit scratchy but that could be due to age. Has a front seam on stomach but no back seam.

Note from Kate
Shame you don't know more about the Pilot, as it would have been nice to have some background inforamtion too. Hopefully someone will recognise him.
Join in and write your own page! It's easy to do. How? Simply click here to return to I.D Your Bear.
If you enjoyed this page, please consider sharing
 it with your friends: