Yellow 90's (Easter?) Rabbit
by C. Fulton
(Scotland, UK)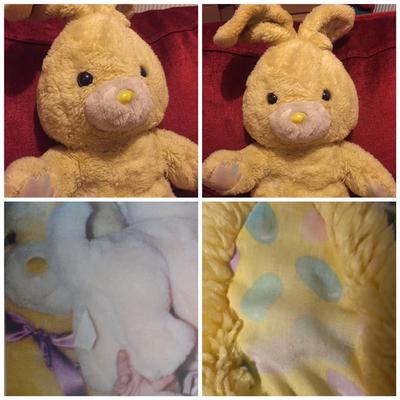 Yellow 90's (Easter?) Rabbit
I'm looking to find out where my childhood plush rabbit came from, as it's been weighing on my mind for years.


He most likely would have been sold around 1998 in the UK as that's when I was given him as a gift when I was born.
I was born around Easter, so that may explain the jellybean (?) pattern on his ears and paws if he was perhaps sold as an Easter gift.
He's probably approx. 24 inches tall from top of ears to foot, and used to have a tag on his rear, but it's long gone as I used to take him everywhere as a child.
He also used to have a purple satin ribbon round his neck when I was a baby, but it's unknown if he was sold like that or if it was put there by a family member.
Nose used to have a soft fuzzy coating before it wore down to the plastic underneath.
Eyes are most likely plastic but feels almost glassy to the touch.
Definitely stuffed with regular polyester toy filling.
Ears used to be propped up by a flat plastic stick in each ear but have since broken over the years.
Mouth is made of pink thread, sewn on rather than embroidered.
The printed material used for the pads on his hands, feet and ears is probably the most unique and notable part, looking to be a pattern of greenish-bllue, lilac and pink ovals which almost resemble jellybeans.
Does anyone have any information or could possibly help me out? I've done google searches and reverse image searches, but haven't had any luck. Any help would be greatly appreciated!